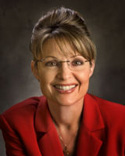 ABCD sponsor Governor Sarah Palin

ABCD sponsor Lt. Gov. Sean Parnell with daughters Grace and Rachel
The ABCD Mountain Project, a bold endeavor to eliminate amblyopia in Alaska though early, thorough screening and consistent, intense treatment, was launched at the Children's Hospital at Providence Wednesday August 29th from 3:00- 4:00 pm and/or 6:00 - 7:00 pm.
We were honored to welcome ABCD sponsors Governor Sarah Palin and Lt. Gov. Sean Parnell. ABCD welcomes the public, and especially the Lions Clubs, public health nurses, school nurses, pediatricians and eyedoctors.
The launch featured state-of-the-art objective and sensory screening technology, reviews of recent vision screening and amblyopia treatment studies. We discused the strategy to provide screening plus treatment to any Alaskan family with a child with amblyopia.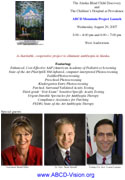 ABCD Launch Poster